What can you say about a late 70's band that fused rock, funk , disco & lounge music into a totally unheard of & totally unacceptable style? This band's name still gets "bandied about" in conversations about the best regional bands of all time in the N.Y / Pa. / Ohio area.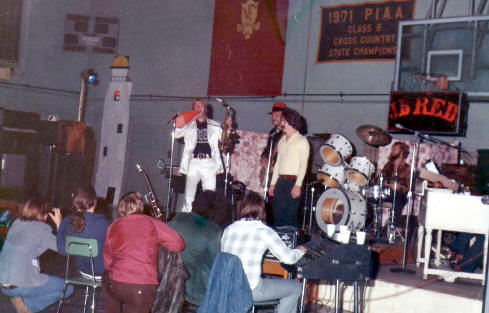 J.B. RED at a live North East gym function circa 1976-77 ... I don't remember this gig...what's with the megaphone? ( from left: John "Crackers" McLane, Eddy Joe "Loin" Bernik, Eddy "Da Da Da Da" Dietz, Ronnie Sutton, Bill "Organ Leroy" Power is out of the pic on right. That's probably future sound legend Jeff Hair manning the high tech audio gear in front)
New 2016: Audio from 1976-77:
FUNKY STUFF- Featuring the earliest known recording of the Crackers & Loin horn section.
BREAK SONG- Some may find "Eat My Shorts for Goodness Sake" offensive. Whatever, talk to the hand!
LIVIN' FOR THE CITY- Whew! This was definitely before I learned how to "Get the White Out".
More to come
Bill "Organ Leroy" Power at his organ again!

John, Ronnie, Loin